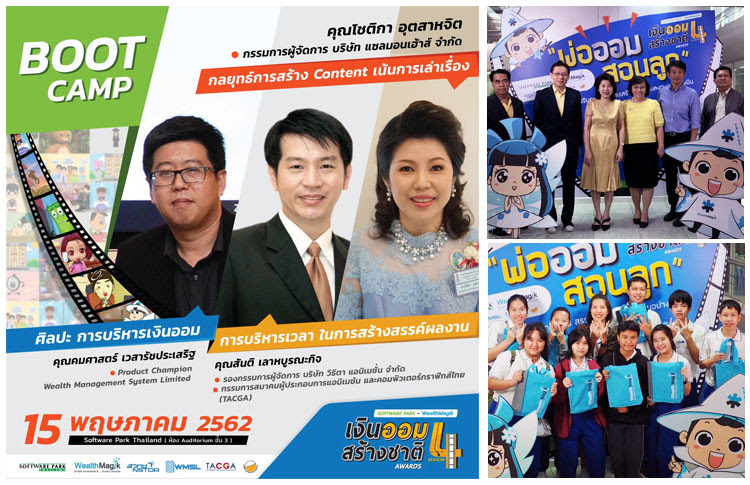 08 Jul

Savings Build the Nation Learning from Best of the Best Gurus

Wealth Management System Limited (WMSL) along with Software Park Thailand organized a Boot Camp for the contestants of "Savings Build the Nation" Award Season 4  on the 15th of May 2019. Held at the Software Park Thailand Building, the boot camp aims to give knowledge to the contestants in managing savings as well as share techniques in animation development and creating inspiring short videos. This year competition has included short video on saving money aside from the usual animation video. Topics that have been discussed were "Art of Saving" by Mr. Komsart Wesaratprasert (WMSL Product Champion), "Time Management" by Mr. Santi Laohaburanakij (Deputy Managing Director at Vithita Animation), and "Storytelling" by Mrs. Chotika Utsahajit (Managing Director at Salmon House Co. Ltd.).
The Software Park-Wealth Magik Animation Award, in cooperation with Software Park Thailand, is currently the nation's biggest animation contest and one of the Corporate Social Responsibility (CSR) projects by WMSL. Along with support from the National Science and Technology Development Agency (NSTDA), Thai Animation & Computer Graphics Association (TACGA), and the Capital Market Development Fund Foundation, the project aims to raise awareness to the Thai people to recognize the value of saving money for their future stability as well as the nation. For this year contest, prizes totaling to 275,000 Baht will be given to the worthy winners from two categories: students and the open category.